Well, after quite a wait the Cowley BT telephone exchange has finally been enabled for Fibre to the Cabinet (FTTC) broadband. Even using BT's own estimate, the exchange has been nearly two month late coming on-line.
So, what does having the new service involve?
Well, other than a hefty £80+VAT fee, it merely requires a BT Openreach engineer to visit your house and install a modem and additional face-plate filter onto the house's master "line" socket and then go to the street cabinet containing your connection to rewire it. You will also need a firewall/router which can talk PPPoE. In other words, one which can use a network cable instead of a phone cable. These are the same as those used with Virgin Media cable-modems.
Although BT (via your ISP) will inform you that the process will take up to an hour, in fact it takes a lot less time than this, It's about 5 minutes for the engineer to unpack the new modem and fix the faceplate and then a further 10 minutes while he hunts for the correct street cabinet and re-wires your phone line. Assuming that you have your router fully set up beforehand that's it. He just does a few tests and leaves.
In my case, I had a Billion BiPAC 7800N router which can do both ADSL (phone line) and connect via a network cable so all I needed to do was change a setting and reboot it.
So, this, after some tidying, is my new communications system: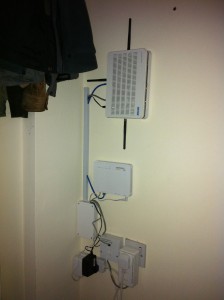 Now that everything's wall mounted and I've put all the wires into a conduit it looks a whole lot neater than before. Also, it's unlikely to be knocked or cables snagged.
At the top of the picture you can see the Billion router. It's not much to look at but it is a superb router. I do like the way that it can be mounted vertically on the wall, thus taking less space laterally.
Below the router is the BT modem. Thankfully this is the mark 3 model so is less likely to die horribly.
Finally, connected directly into the wall power socket is the Devolo 200Mb/s power line networking module. This connects to a similar unit in the spare bedroom, where my server sits, and to a multi-port power-line network switch in the living room to which is connected the TV, PS3 and amplifier.
So, what does all this shiny new equipment give me over and above what I had before? Other than the 10 times download speed increase and the four times upload speed jump, it also means that the connection should be far more stable. I'm also only paying about £3 more for this service than I was for the ADSL MAX service I was previously on and I get an extra 30GB of download quota bundled in with it.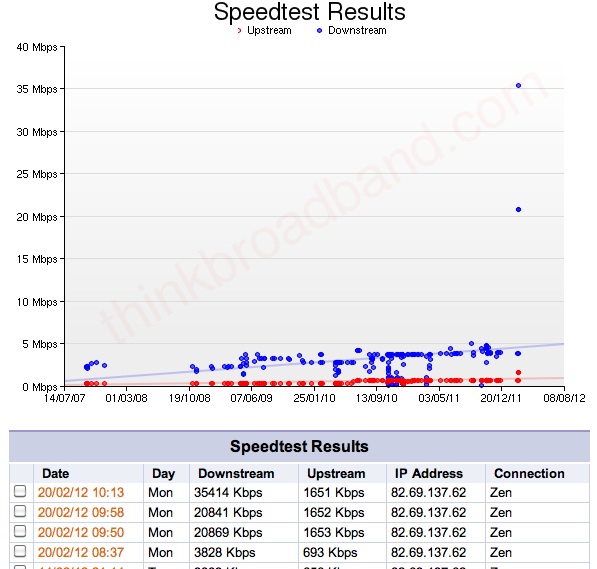 Basically, I'm happy with it and that's all that matters.
[Edited to add historical broadband speed test data]